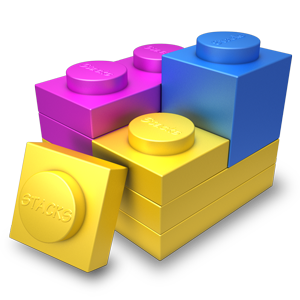 Flexible Layout for RapidWeaver®
Stacks 2 adds flexible, powerful, extensible layout to RapidWeaver®. Building pages is as easy as drag and drop. Choose from dozens of included elements or over 250 3rd party stacks available for download.
Say Hello to Stacks
Give us three minutes and we'll show how Stacks makes it easy to do things in RapidWeaver® you never could before.
Flexible Layout
Stacks lets you build pages that flow text to the dimensions of a theme even if the theme has a variable width. You can build flowing columns, flexible rows, and tiles of images.
More Stacks
With 25 new built-in stacks and over 250 downloadable third-party stacks, the possibilities are endless.
Pros Welcome
Stacks builds layout with relative positioning from a simple two-div structure, the HTML is clean and valid.
Pros can use Stacks to prototype difficult layout and add their own HTML to the mix.
Searchable Libraries
Stacks 2 incorporates the the most customer-requested feature: a searchable library of stacks. You can easily search for and locate the exact stack you're looking for.
Live Image Editing
Resize, rotate, and style full resolution images without leaving Stacks.
Stacks API
You can build your own components for Stacks or even publish them for others to use. The Stacks API reference covers how to build and configure a stack and even build a custom UI right into the Stacks Info pane.
Get Simple!
Need to extend the power of Stacks? Simple Stacks adds three new structures to your Stacks Library. Build floating columns, ordered lists, and structured definitions. And do it all with the flexible layout you've come to expect from Stacks.
Learn More